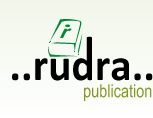 About Us
The word publication means the act of publishing. At 'Rudra Publication' you will find different act. Our act is not to publish 'materials' but to publish the secrets for human potential like Mind Power, Memory Power, Relationship Building and many more.
+Read More
Home Delivery
Home Delivery in Ahmedabad Call at: +91 79 26447393 (10.30 am. to 6.00pm.) Mobile : 098259 259 47
Distributors are welcome
Rudra Publication
25/B, Govt. Co.op. Society, B/h, Municipal Market, Off. C.G. Road, Navrangpura, Ahmedabad - 9 Gujarat (INDIA) +91 79 26447393


Downloads
Page Under Construction...